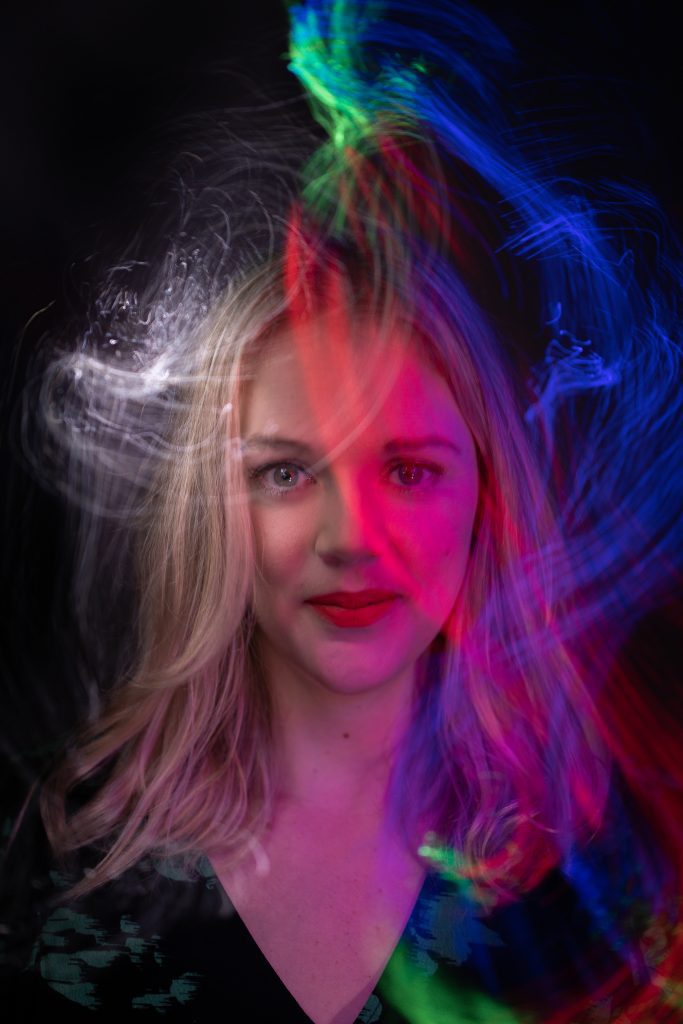 Malin Bobeck Tadaa is an awarded textile artist based in Stockholm, Sweden. With her self-developed methodology of weaving LEDs, sensors, and electronics, into fabrics, she creates one-of-a-kind artworks. The optical fibers make her art both visual and tactile and invite the visitor to interact and influence it. The audience doesn't just admire her art, they become a part of her installations.
Her art is inspired by the human imagination, deep sea, outer space, and the worlds that are hidden from us. By creating spaces with inspiration from these worlds she gives the viewer an experience of shifted perspectives. She has an array of successful projects and exhibitions behind her. 
She has previously exhibited in the Nationalmuseum Design, Gothenburg Art Museum, Borås Textile Museum, and KTH in Stockholm where her biggest installation so far, Emerging Sensation, took place in January 2019 and attracted over 4000 visitors and was funded by The Swedish Arts Grants Committee. 
She has also been featured in many industry magazines and blogs, been on Swedish national television, and has delivered a TEDx talk about being guided by one's fears. She has been awarded several art grants for her innovative work, such as the "Encouragement of research" from the Sten A Olsson foundation in December 2015, with the motivation:
"For those who are accustomed to thinking of the woven fabric as something quiet and controlled, the encounter with Malin Bobeck Tadaa's work will be bewildering. Her textiles careen, sparkle and switch between different moods. They arouse curiosity and invite us to be tactile. In her still young artistic practice, Malin Bobeck aims to create changing spatial structures in which the latest lighting and interactive technology is combined with handicraft. She is part of a broad movement in craft and design that combines traditional methods with contemporary technology, in an inquiring and inclusive way. Her approach rejuvenates the craft and also creates a new and exciting context for the achievements of engineering science."
Malin has been studying and working in the textile field for the last 17 years and is educated at Tillskärarakademin, Uppsala University, The Swedish School of Textiles in Borås, graduating in spring 2014 earning a Bachelor in Fine Arts, Textile Design.